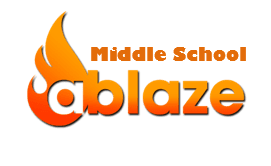 Faith Formation begins in the home as family and continues with support at St. Monica
Welcome! Middle School Ablaze incorporates fun, faith and holy friendships through ice breakers, lessons, small group discussions, and Adoration. We look forward to working with and supporting your efforts as primary educators!
Fr. Jack has shared with us that our catechetical focus will be the Baltimore Catechism. Together, we will learn the elemental and foundational truths of the Catholic Church. From Parish Family Ablaze down to Elementary Ed, we will build a common vocabulary, fellowship together, and grow in Christ. Family Events are also scheduled to accompany the Faith Formation calendar, and are designed to bring us together as parish family to bridge home, public, private, and hybrid schooling families with intergenerational families, to build relationships, friendships, and love for Christ. Volunteers are needed to assist with Family Events ~ please contact Kris.

Session Options
Middle School Ablaze meets Wednesdays from 6:30-8pm in St. Augustine Hall and concludes with Adoration in the church. A Home Study option is also available for students in 6-7-8 and lessons are required to be completed and submitted by the end of each month.
Calendar
Middle School Ablaze begins September 14, 2022 and concludes May 3, 2023. Home Study will follow the same calendar. Please refer to the website.
Fees
Registration Fees
Catechist Discount $ 40 per child (Volunteers needed and must be approved by Kris prior to registration)
Regular Registration $100 (after August 15th)
Questions
Please direct questions to Director of Elementary and Middle School Faith Formation, Kris Michels at kmichels@saintmonicas.com or 678.584.9947 x 116.
Visit stmyouth.com for up- to- date information on Middle School Ablaze