Weekend Masses
Saturday
4:00PM (Vigil)
Sunday
6:45AM (English, Novus Ordo, No Music). LIVE STREAM
8:15AM (Extraordinary form Latin mass.
Traditional Latin Mass / Extraordinary Form Resources
10:45 AM (English, Novus Ordo).
12:45PM (English, Novus Ordo).
Confessions
Monday & Tuesday & Thursday
5:00 PM – 6:00 PM
Saturday
10:00 AM Or by appointment, call the Parish Office.
Weekday Masses
Important Temporary Weekday Mass Schedule Change
Due to construction on the choir loft October 3rd to October 14th
Weekday Daily Mass during those two weeks will be 6:30 a.m. and 6:30 p.m.
There will be no 9 a.m. Daily Mass October 3-14
Confessions will remain at normal time.
Monday, Tuesday, Thursday 5pm Saturday 10am
Mass livestream will be temporarily suspended.
There WILL be 9am Mass Saturday, October 8.
Regular Schedule:
Monday – Saturday
9:00 AM
Monday & Tuesday
9:00am & 6:30pm
Wednesday-Friday
6:30 AM & 9:00am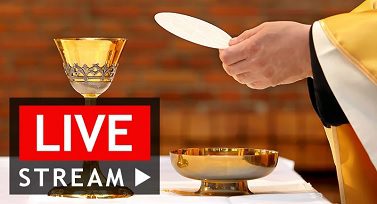 Tuesday/Thursday 9:00am
Sunday 6:45am
Join the live stream link below!!
Traditional Latin Mass