Are you interested in learning more about the Catholic Church?
If you are interested in learning more about the Catholic Church's teachings and practices (with the possibility of becoming Catholic yourself), please join us for our Christian Initiation classes. These classes seek to answer your questions about Catholicism while exposing you to the beauty and richness of the Catholic Faith. Here's a sampling of what you will learn in these classes:
The existence of God and His love for you
Your dignity as a human person
The horror of sin
Our need for a Savior
Who our Savior is
How we are saved
The reason that you were created
Ways to begin living out God's plan for your life
How to talk to God
How God speaks to you
Ways to begin/deepen your relationship with God
What happens when you die
If you would like to get a calendar for these classes or meet with our Christian Initiation director to learn more about what these classes entail, please contact Patrick Klein at 678-584-9947 ext. 112 (patrick.klein@saintmonicas.com). Of course, the classes are free!
If desired, these classes give you the opportunity to prepare for the reception of the Sacraments [the sacraments are channels of God's grace (i.e. His own Life)]. To learn more about this process (sometimes called the Christian Initiation process, R.C.I.A., or O.C.I.A.) check out the following link:
More…
---
What is RCIA?
The Rite of Christian Initiation for Adults, or RCIA, is a communal process for formal initiation of new members into the Catholic Church. This process is a return to the formation of the earliest members of the Church in the first and second centuries. To learn more about the process contact Patrick Klein at patrick.klein@saintmonicas.com
To register click on the appropriate link below:
Registration for for Adult Inquiry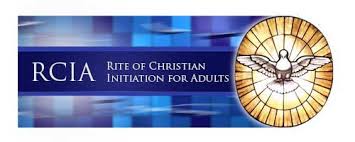 Registration form for Children and Teen Inquiry: